The time has come to respond in kind to what a certain rival presented on September 12th. Google has officially unveiled the new ones Pixel 8 e Pixel 8 Protwo smartphones that promise a more useful and personal experience (also) thanks to the use ofartificial intelligence.
Google Pixel 8 Pro – Unlocked Android smartphone with telephoto lens, 24-hour battery life and Super Actua display – Sky blue, 128GB
Google Pixel 8 e Pixel 8 Pro: nuovo design e inedite feature AI
Starting from an excellent base (the design that characterized the previous generation), Pixel 8 and Pixel 8 Pro boast a look with softer lineswith metal finishes and – which certainly doesn't hurt – the use of recycled materials.

The base model has smaller dimensions than the Pixel 7 and is equipped with a 6.2 inch display (OLED FHD+ up to 120Hz) 42% brighter than its predecessor. On the Pixel 8 Pro instead, a 6.7 inch Super Actua display (LTPO OLED up to 120Hz), the brightest ever seen on a Big G smartphone. The panel is complete dishtherefore it makes more space available to the user.
On the back of the Pixel 8 there is (but you can't see…) also a sensor to scan the temperature of an object in record time. An unexpected addition but one that will certainly prove useful for a good portion of users.
What's new in the photographic sector
The Google Pixel 8 Pro boasts professional level cameras: The ultrawide lens is wider and offers superior macro focus, the telephoto captures 56% more light, the front camera is finally equipped with one automatic focus for even better selfies. The Pixel 8 on the other hand has one updated rear camera with advanced image processing and Macro mode support.
Pixel 8 Pro:
50 megapixel Octa PD wide-angle camera
48 megapixel Quad PD ultrawide photocamera
48 megapixel Quad PD telephoto camera
10.5 megapixel Dual PD front camera
4K video recording at 24/30/60 fps
1080p video recording at 24/30/60 fps
Front camera: 4K video recording at 24/30/60 fps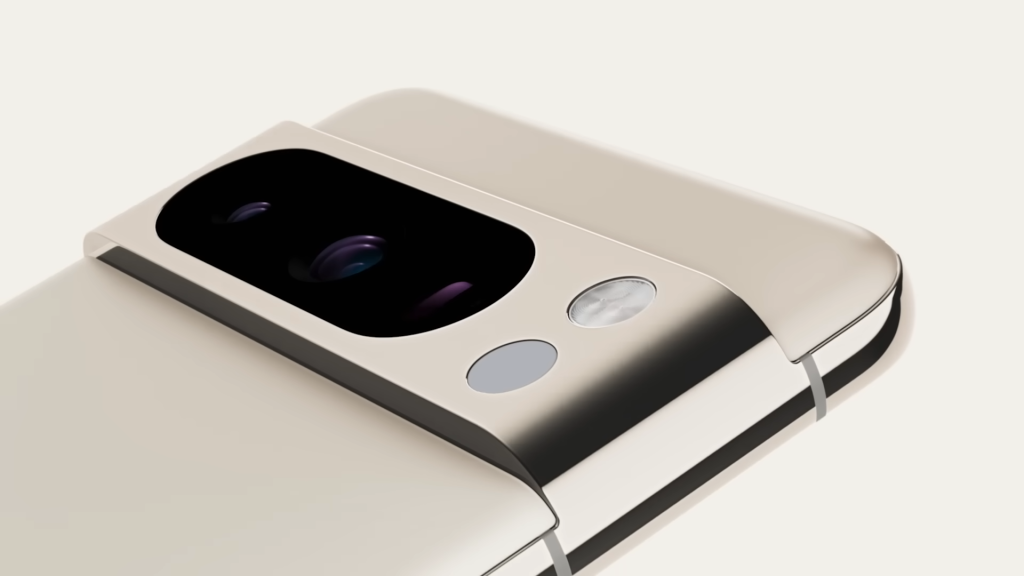 Pixel 8
50 megapixel Octa PD wide-angle camera
12 megapixel ultrawide photo camera
10.5 megapixel Dual PD front camera
4K video recording at 24/30/60 fps
1080p video recording at 24/30/60 fps
Front camera: 4K video recording at 24/30/60 fps
As for the features, they stand out Better Shot (which, using an algorithm, uses the photos taken to obtain the "perfect" photo), Magic Editor (in Google Photos, it is an experimental editing tool that uses generative AI to reposition and resize subjects, make the background stand out, and so on), Gomma Magic Audio (to reduce distracting sounds from the video, such as blowing wind or noisy crowds) e Video Boost (thanks to the Tensor G3 processor, it applies processing to adjust color, lighting, stabilization and graininess).
The AI ​​features designed by Google
Already presented on previous occasions by the Mountain View company, some features based on artificial intelligence are now also available on the new Google Pixel 8 and Pixel 8 Pro. Here they are:
Summarize (US only, for now): The smartphone can generate a summary of a web page and highlight key points. The device is also capable of reading articles (or other content) aloud and translating web pages.
Call Filter: it is a very useful tool that allows you to receive on average 50% fewer spam calls (advertising and so on). Thanks to AI, an even more natural voice will answer calls from unknown numbers. And with a future update, the feature will be able to provide contextual responses to confirm appointments and so on.
Android processor and updates
The engine of Google's new smartphones is the Tensor G3which works together with the security chip Titan M2. The same are also the basis of the system face unlockthe most secure method for confirming purchases, accessing sensitive personal information and logging into banking apps.
Finally, wonderful news for all those who will purchase Google Pixel 8 or 8 Pro: for the first time ever, Big G guarantees seven years of software support (Android updates, security updates and regular Feature Drops).
Prices and availability
The new Google Pixel 8 and Pixel 8 Pro they can be pre-ordered from now on Amazon at a starting price of 799 euros and 1099 euros respectively. Sales (and deliveries for those who have pre-ordered) will start on October 12th.
Pre-order Google Pixel 8 starting from €799 on Amazon
This article contains affiliate links: purchases or orders made through these links will allow our site to receive a commission. Offers may undergo price changes after publication.