As widely announced by the company itself in the previous days, Google also presented its new smartwatch, the Pixel Watch 2. The wearable can already be pre-ordered on Amazon starting from 399 euros.
Google Pixel Watch 2 with Fitbit Heart rate monitoring, Stress management, Security features – Android smartwatch – Aluminum case – Light blue sports strap – Wi-Fi
Google Pixel Watch 2
Il Pixel Watch 2 it is designed to allow users to monitor parameters regarding health and physical activity, but also safety and productivity.
Among the most interesting innovations is the new multi-propagation heart rate sensor, which guarantees better signal quality. Possible thanks to technology Fitbit, this sensor switches from propagation to multi-propagation mode (and vice versa) based on the type of activity being performed. During an exercise, use LEDs and photodiodes to measure your heart rate precisely of the user from different positions and angles.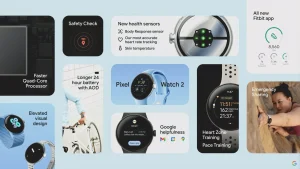 The same Fitbit technology helps monitor the body's response to a potential state of stress or agitation and it does so by analyzing inputs from the cEDA sensor, heart rate variability, heart rate and even skin temperature. In case of stress, the smartwatch and the Fitbit app suggest some "solutions", such as a walk or a guided breathing exercise.
The main innovation regarding physical activity is the advanced fitness program which guides the user via vocal and haptic signals to achieve their goals.
Meet #PixelWatch 2—help by @Googlehealth by @Fitbit.

⌚3 new sensors for advanced health tracking
💓Our most accurate heart rate tracking*
📊Personalized help & insights*
🆗Safety Check & Emergency Sharing*
🔋24hr battery life*

*See video & learn more: https://t.co/aiLNJPmc3Y pic.twitter.com/EEtyJJBVBT

— Made by Google (@madebygoogle) October 4, 2023
In terms of safetythen, in addition to the already existing functionality SOS Emergenciesthe Pixel Watch 2 supports the security control for programming a timer for specific situations (so friends and family will know where the user is at that precise moment of the day) and also the emergency sharingwhich – as the name suggests – allows you to share your position in real time and/or activate medical information to be provided to the emergency services.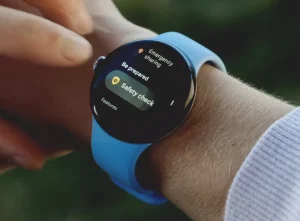 The modern and innovative Pixel Watch 2 is equipped with three new sensors, a 100% recycled aluminum case (it is lighter) and an even thinner domed cover glass. All without compromising the resistance of the wearable. Available in four color combinations, the smartwatch can already be pre-ordered on Amazon at the starting price of 399 euros.
Preordina Google Pixel Watch 2 su Amazon
This article contains affiliate links: purchases or orders made through these links will allow our site to receive a commission. Offers may undergo price changes after publication.